Speakers/Trainers from Div. TEACCH.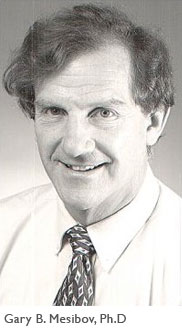 Dr. Gary B. Mesibov former Director of the TEACCH Programme ( North Carolina's State-wide programme serving children and adults with autism and their families) and a Professor of Psychology in the Departments of Psychiatry and Psychology at the University of North Carolina at Chapel Hill. With degrees from Stanford University, The University of Michigan and Brandies University, Dr. Mesibov is Editor of the Journal of Autism and Developmental Disorders and the 1989 recipient Paediatric Psychology's Distinguished Professional Contribution Award. Dr. Mesibov is the co-editor of the series, Current Issues in Autism, published by the (Klewer) Plenum Publishing Corporation. Dr. Mesibov's main interests in the area of autism are training, social development, adolescents and adults, and high-functioning individuals with autism. He has been involved in clinical work, training, research and consultation on these issues for over 30 years.
Kathy Hearsey
Kathy Hearsey received both an A.B. degree in Psychology in 1979 and a M.Ed. in Special Education in 1981, from the University of North Carolina at Chapel Hill. Following her college education, she spent six years teaching a variety of students diagnosed as moderate to severe mentally retarded and autistic. For the past 10 years she has worked with Division TEACCH as a classroom and group home consultant, social skills trainer and supported employment programme developer. She has been involved in a variety of training activities including Division TEACCH's Summer Training Programme in Chapel Hill and conferences and presentations in the U.K., Europe and Asia. Special areas of expertise are structured teaching and vocational and independence training.
Kia Mates
Kia received her B.A. degree in 1977 and her M.Sw. degree in Social Work in 1980, both from the University of North Carolina at Chapel Hill. While studying for her Masters Degree she completed Internships at Division TEACCH and a multidisciplinary diagnostic and training centre for developmentally handicapped children and their families. She began working with Division TEACCH as a Psychoeducational Therapist in 1980 and continued in that capacity until 1984. From 1984 until the present she has worked for Division TEACCH as a consultant and trainer. These activities have included training in Belgium, England, Japan, China, Kuwait, Singapore, South Dakota, Georgia, Florida, New York, California, Oregon and the annual Summer Training Programme for professionals in Chapel Hill, North Carolina. Ms. Mates' areas of specialization include structured teaching and working with families.