Welcome to Autism Eye, the quarterly magazine for parents and carers of children with autism.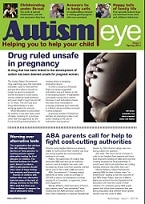 Autism Eye is written and published by national award-winning journalists who are also parents of a child with autism.
Our mission is to offer an affordable way for parents and carers to keep informed about ways to improve their children's lives through in-depth and unbiased coverage.