Time Timers
01132 704483
With the Time Timer, teachers and parents can make full use of their time with children. They are designed to help children understand "how much longer".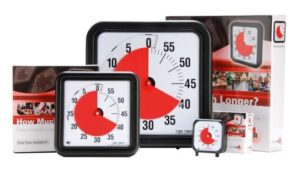 In a teaching situation, no other tool communicates the concept of elapsed time as well as the Time Timer. Used as an interactive teaching tool, this classroom-tested teaching aid reference reinforces the sense of elapsed time with a graphic depiction of the time remaining.
1. In the classroom use the Time Timer to: Teach the concept of time, teach children to use time wisely, track the duration of activities and time standardised tests,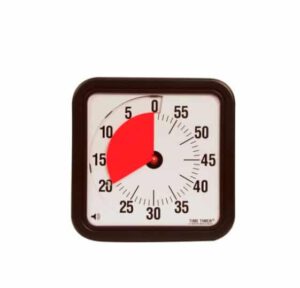 monitor math and writing speed tests, measure study periods and lunch periods.
2.Regulate computer time, administer duration drills and show time left to play, get ready or clean up.
3. At home the Time Timers will help you become more productive, more organised and more relaxed throughout the day. Use the Time Timer to: Help children focus on homework, balance TV/Computer time with playtime and assist with start/end of day routines.
The Time Timer provides the ability to judge how much time is left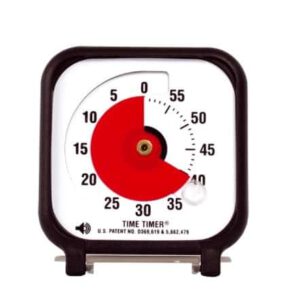 without having to know how to tell time. The products operate with high colour resolution, large dial numbers, and ultra-quiet quartz movement. These additional features make the Time Timer product line perfect for special needs applications such as: Guidance for individuals with ADD, ADHD, Autism, Asperger's Syndrome and Dyslexia, monitoring time during counselling and therapy sessions, stroke and brain injury rehabilitation and Geriatric care, such as memory prompting for medications and appointments.
Trainers and special education teachers have proven that Time Timer products work in both individual and group situations. With the Time Timer, users understand the passage of time and can monitor own activities, improving their self esteem. Better time awareness also relieves the stress and anxiety of disorientation.
All our audible Time Timers are packed in a sturdy box. The large and medium Time Timer are designed to operate free standing or wall mounted. The sound can be switched on or off on the side of the Timer. The large Time Timer has a stronger beep for classroom use.
CLASSIC MODELSJAC5000- Time Timer Large Its large size and bold numbers make it easier to read. (Dimensions – L 30 x H 30cm)

JAC5008-Time Timer Medium Can be free standing or wall mounted. (Dimensions – L 18 x H 18cm)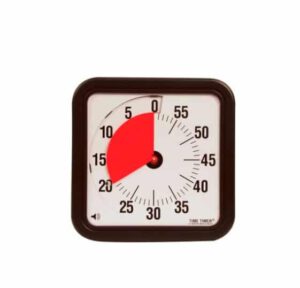 JAC5007-Time Timer Pocket A clear protective cover flips open to serve as a stand for the timer or to protect the face and disk during the operation. (Dimensions – L 7.5 x H 7.5cm)
JAC5025- TIME TIMER PLUS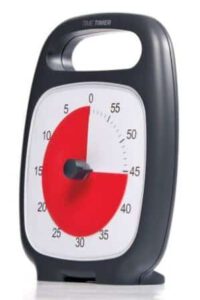 the new Time Timer Plus Protects the signature red disk under a clear and durable lens. Simple new controls ensure ease of use for all ages. Clock Features- Lightweight anti-static disk, Protective glare free lens, Centre-dial for setting disk, New convenient size 14 x 18 cm, carry handle & volume control dial.
JAC5023- TIME TIMER WATCH PLUS- Adult
All the benefits of the Time Timer – but on your wrist! Increases independence and mobility for all who benefit from time management.
Watch features- 12/24 hour option, 3 modes – clock, timer and alarm, vibrating and audible alerts & water resistant – 30M
TTYOUTH Time Timer Watch Plus-Youth
(Available in light grey, or dark grey with orange print)
JAC5004- Time Timer Software
The software provides innovative new ways to visualise time by allowing you to work with hours, minutes and seconds in "real time". The application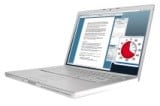 window can scale on your screen as well as on a overhead projector.
Screenshots: seconds mode, minutes mode, hours mode, custom mode and clock mode.
Blank Sheets

– can be used with the medium and large Time Timers. The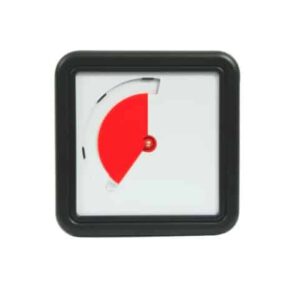 plain white face allows you to customise the Timer with stickers, washable marker, colours etc. Now instead of using numbers, users are free to use their imagination as to how to mark the increments of time.

JAC5005- Blank sheets Medium (Pack5)

JAC5006- Blank Sheets Large(Pack 5)

Time Timer Pictograms

Pictograms – daily routine & spare time. The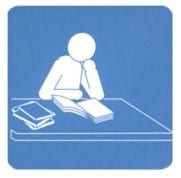 pictograms can be placed on the Time Timer to identify what time different things need doing. When

using the pictograms you must be able to make a link between the activity on the pictogram and what you must do yourself.
JAC5020 Daily Rhythm Pictograms
JAC5021 Spare Time Pictograms
Time Timer Stickers
Time Timer Stickers – can be used with medium and large Time Timers. A sheet of clear adhesive stickers which you can use to divide activities on your Time Timer. The stickers are available with or without text.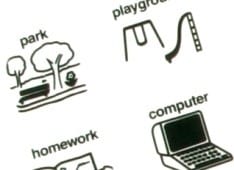 JAC5015 Medium Stickers(no text)
JAC5016 Medium StickersEnglish
JAC5018 Large Stickers(no text)
JAC5019 Large StickersEnglish
AVAILABLE TO BUY ONLINE at www.alphabeteducation.co.uk
HOW TO PAY
1. By telephone.
Call our Sales Team on 01132 704483, and make a swift payment by credit or debit card (Mastercard, Visa, or Maestro).
2. By cheque.
Cheques can be made payable to
ALPHABET EDUCATIONAL SUPPLIES LTD, and posted to-
Alphabet Educational Supplies Ltd.
Unit 5 Millshaw Park Industrial Estate
Leeds
LS11 0LW,
West Yorkshire
3. By BACS.
Payments can be sent in sterling via BACS. Please contact our Accounts Team for bank details, quoting your order number-
01132 704483 or sales@alphabeteducation.co.uk
4. By PAYPAL.
Simply login to your PayPal account and send your secure payment to- sales@alphabeteducation.co.uk
(Please quote order number within the payment ID section)
ALL LOCAL EDUCATION AUTHORITY SCHOOLS & NURSERIES ARE ELIGIBLE FOR A

30 DAY CREDIT ACCOUNT

BY SENDING A OFFICIAL PURCHASE ORDER THROUGH TO
sale
Time Timer Range
Please note that every effort was made to make this document as precise as possible, however prices and or specifications provided may change

.
Please phone +44 (0)116 270 4286
sales@alphabeteducation.co.uk, or by fax- 01132525698.
The autism Society has changed its name from (®SFTAH) ®Society For The Autistically Handicapped to ®Autism Independent UK, with working names: ®SFTAH, and Electronic Names (www(web)) ®Autism Online and ®Autism For All. These have been deposited to the UK's Charity Commission for England and Wales